DURATION
Research and Design Sep 15 - Dec 10 (2017)
TEAM
1 UX Designer, 1 UX Design Intern, 1 Project Manager, 3 Developers, 1 Business Systems Analyst
DUTIES
User research, UI design
TOOLS
InVision, Omnigraffle
Project Overview
Problem
After adopting a new admission system, UC Berkeley's Office of Undergraduate Admissions staff members reported numerous points of confusion among admitted students resulting in a significantly higher than average volume of inquiries for assistance.
Context
Over 20,000 students are admitted to UC Berkeley per year. Students navigate through several pages and three web products as a part of their onboarding experience.
Goal
My objective was to address the confusion of newly admitted students via UX/UI design.

Results
I redesigned the most problematic elements of the user interface. The designs were implemented in March of 2018. Admissions staff reported a decrease in user reported issues in the following admission cycle.

Student Interviews
We interviewed 3 students on their admission experience.
"It is annoying to click on so many links" - Student describing experience of reading his decision letter
Staff Input
We worked with 4 administrative staff to collect a list of pain points.
"Students are worried, wondering what to do next? Will I be canceled? ... We need to tell them what to expect next and when it is okay to chill" - Staff Member
Usability Testing
3 students tested a prototype.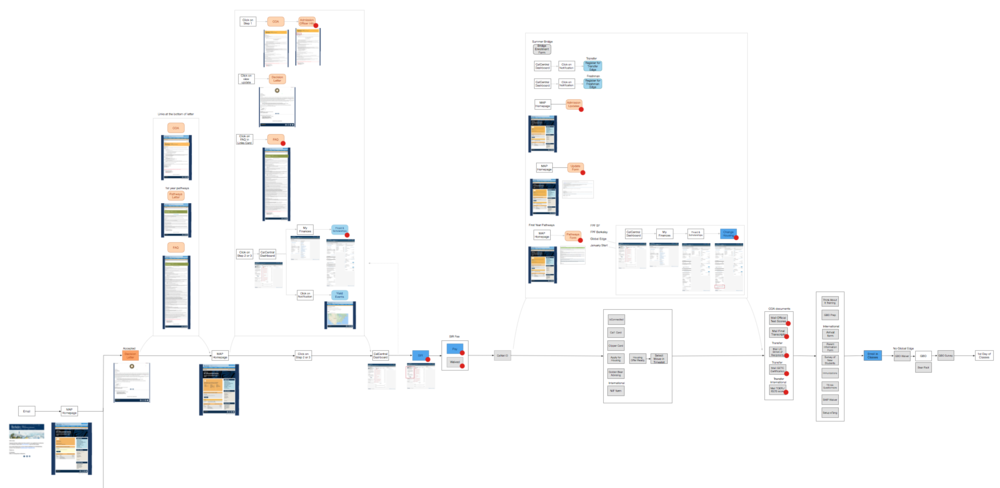 Documentation of each page viewed by a admitted student

User task flow of an admitted student's journey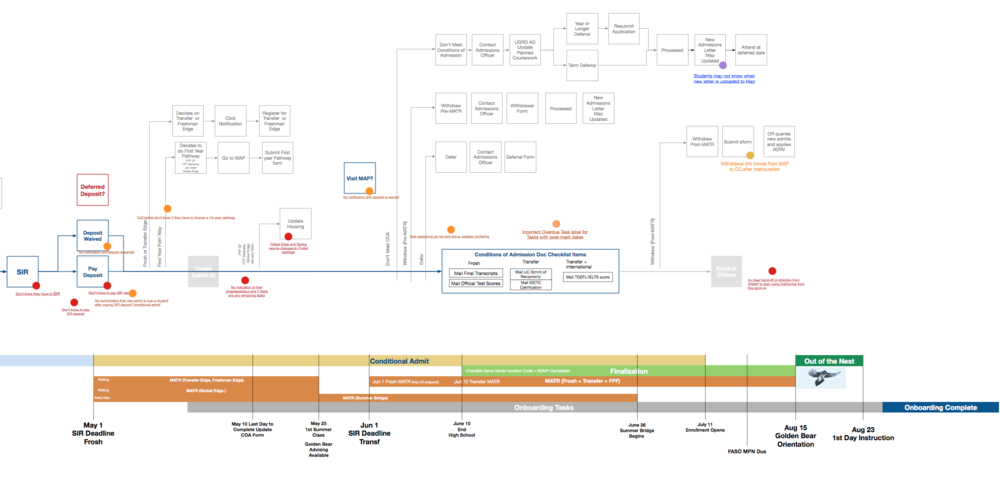 Created an admitted student's timeline of deadlines, events, and other important dates to understand their state of mind
Research Findings
To summarize the issue into one theme, students were not being provided clear directions. The confusion students experience could be expressed as:
Where am I in the process?

What actions can I take from here?

How do I take the next step?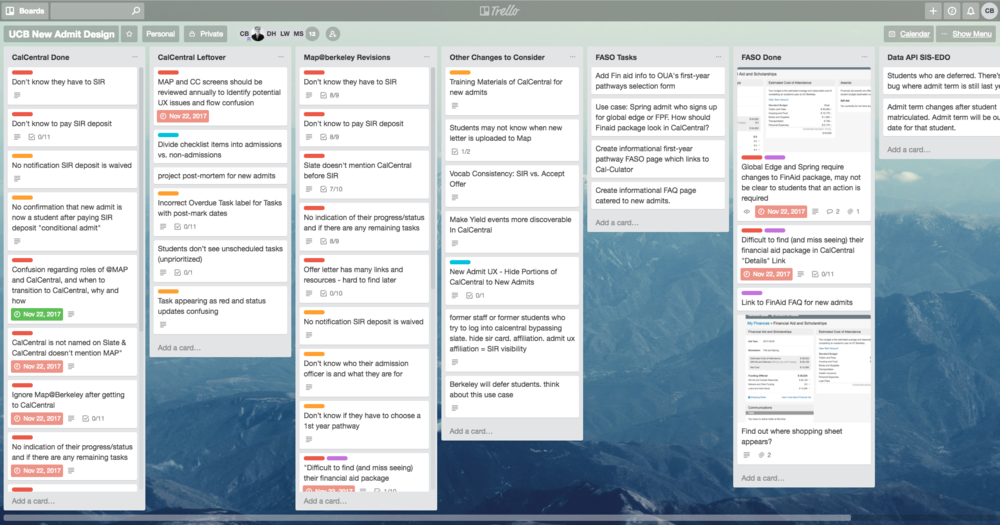 Prioritized the urgency of issues with stakeholders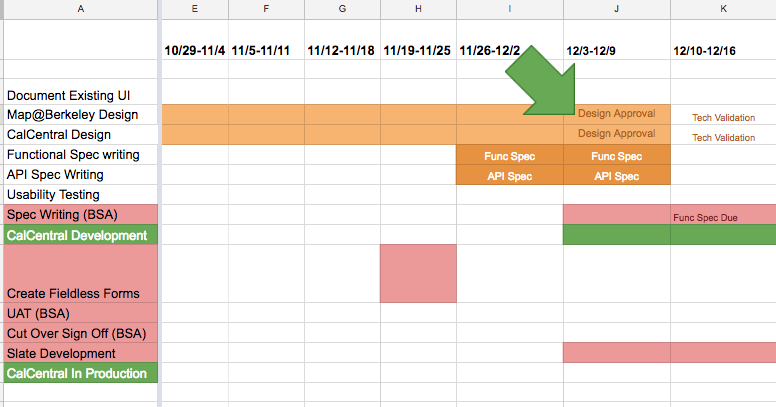 Timeline based on a weekly design sprints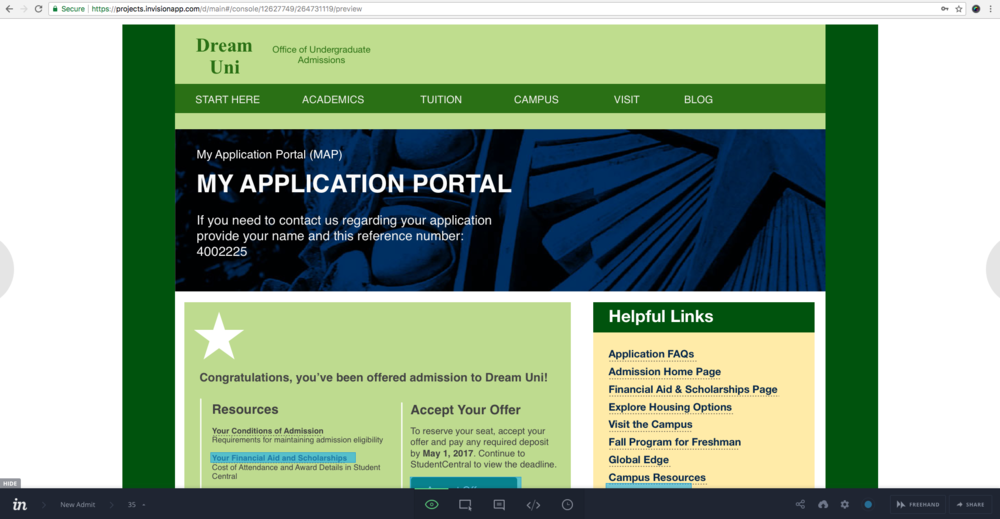 Usability test sessions with 2 junior level high school students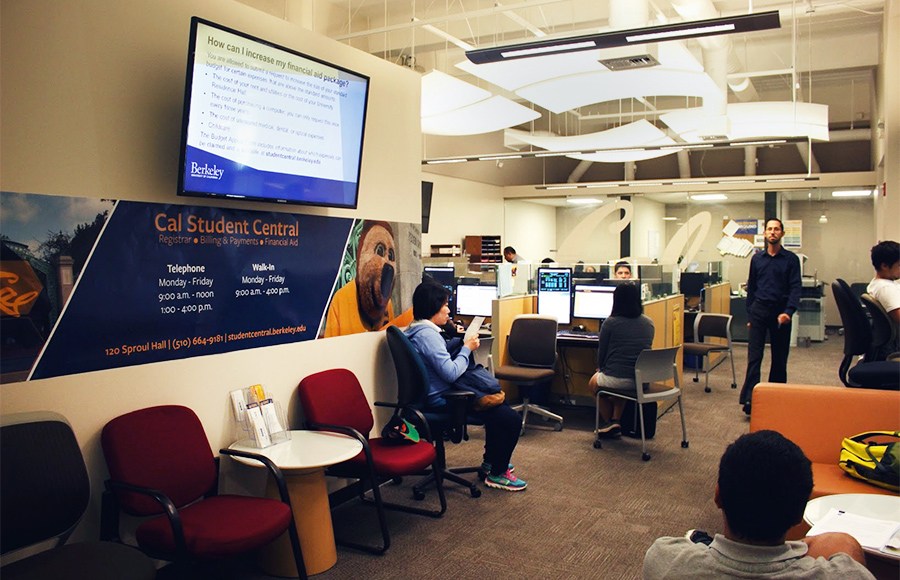 Guerrilla usability testing with 3 students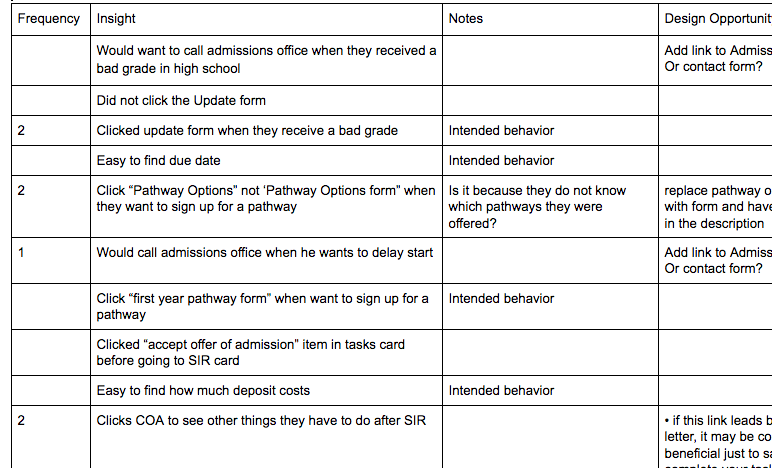 Gleaned insights by comparing observations from usability testing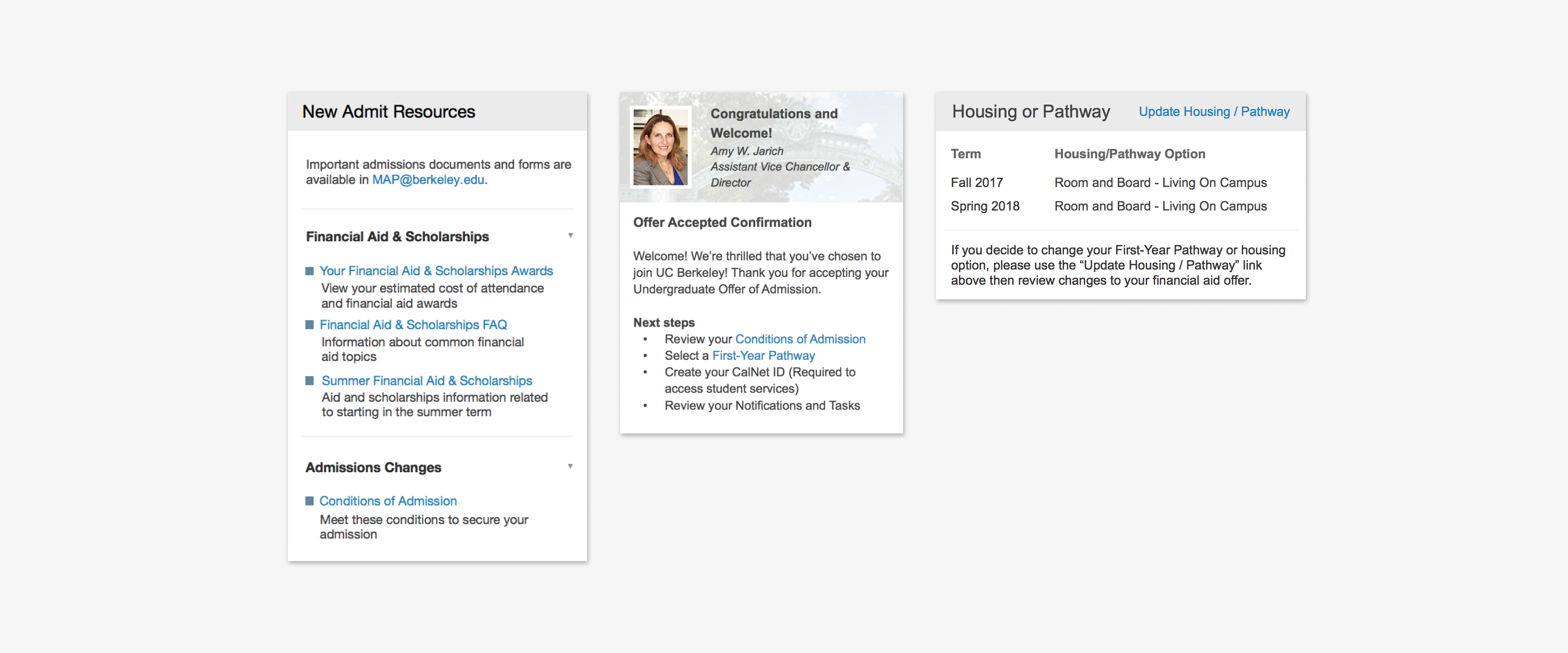 Valuable data upfront
Students struggled to find certain information. Placed cost of attendance, first year programs, and options for waitlisted students who are coming off the wait upfront to minimize clicks
Relevance by Time
Depending on a student's stage in their process of becoming a student and certain recurring dates, the interface changes to suit their needs.
Confirmation
Emails get lost and students are weighing their options between multiple universities. We included a new state in a new students journey, ending with a reminder of their acceptance that remains until the start of classes.
Clearer Next Steps
Per stage of the admission process, we included either text or interactions to provide guidance toward the next steps or possible actions one could take.
Results and Impact
6 months after implementation of the design revision, we interviewed five staff members of the Office of Undergraduate Admissions.
Getting back to normal is pretty good after implementing a new system at UC Berkeley but of course, there's always room to improve.