DURATION
Aug 2020 - August 2021
TEAM
1 UX Designer (myself), 4 student developers and designers
SKILLS USED
UX Design, Service Lead, User Research, Supervisor of 4 students, Sprint Planning, HTML and CSS
During the summer of 2020, UC Berkeley prepared for a return of over 55,000 students and employees to the UC Berkeley campus. I was tasked with designing and managing the mobile app for the recovery effort.
Stakeholder Goals
Ensure healthy campus population

Mandate symptom screening

Communicate protocols
End User Goals
Knowing the campus plan for safety

Decision making support via data

Guidance regarding protocols

Delivery Timeline
August 2020: User interviews > Trial launch > Usability Testing
September 2020: Findings and recommendations reported to campus leadership
October 2020: Project funded > Budget allocation > Student staff onboarding
October - July 2021: Design > Development > Re-launch
August 2021 - June 2022: Adoption > Maintenance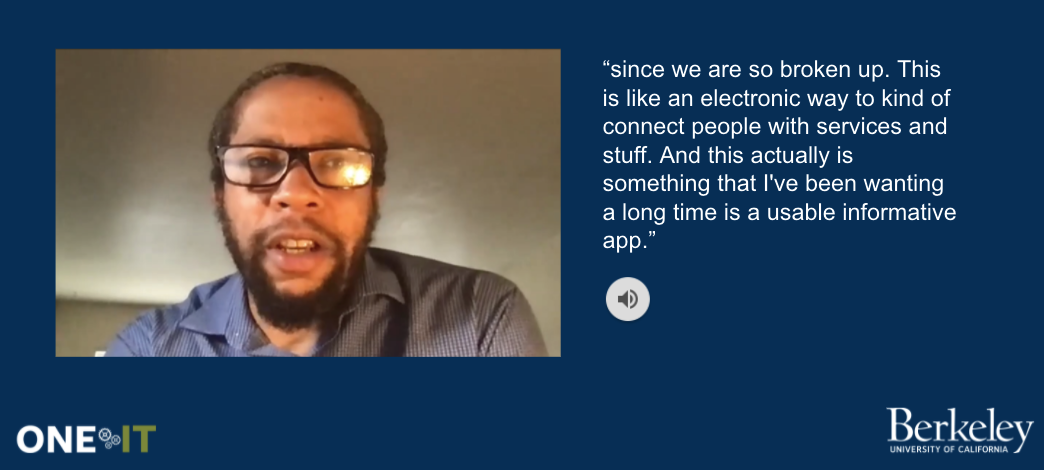 User Interviews
I interviewed 10 staff members and students to discover their needs and assess how a how a mobile app could assist students and staff's needs during the pandemic.
"Is it going to be safe? My building has rows of cubicles." - Staff Member"
I'm afraid there could potentially be outbreak on campus" - Student
"I'm anxious to return to campus." - Staff Member

User Surveys
I surveyed 110 staff and students to gather their sentiment on proof-of-concept app features. These insights helped me understand the portions of the app which users found most useful.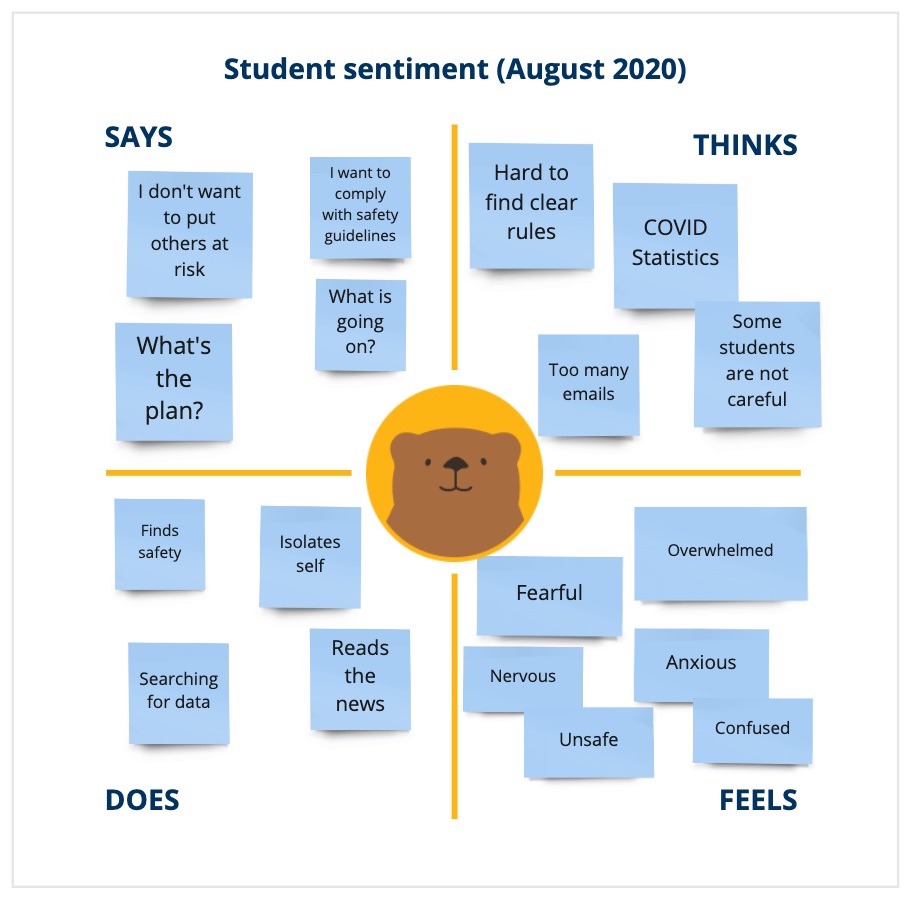 User Needs
Based on participant input, staff and student concerns could be boiled down to the following questions:
How can I know whether returning to campus is safe?

What is the plan and protocol for returning to campus?

What actions can I take to ensure the safety of myself and others?
User needs aligned directly with stakeholder's goals for the UC Berkeley Mobile App effort as well as the campus wide recovery effort.
Presentation to Leadership
I communicated findings and recommendations from the interview, the survey, and the initial launch to UC Berkeley's department of IT leadership. I included quotes from interviewees as well as their audio recording to relay user's direct words to decision makers and stakeholders of the app.
I conducted the presentation on September 10, 2020.
IT Leadership made a decision to allocate a full time designer (myself) and funding toward the app for development.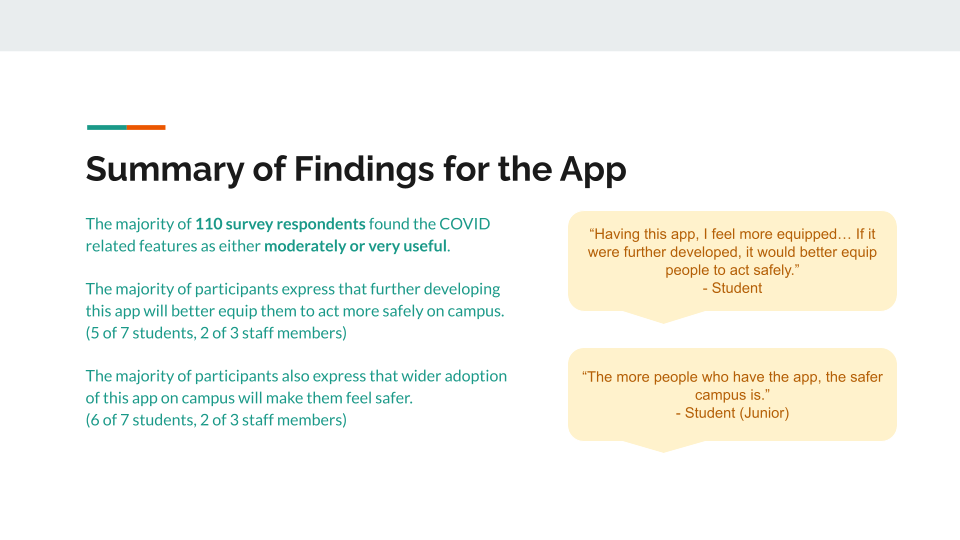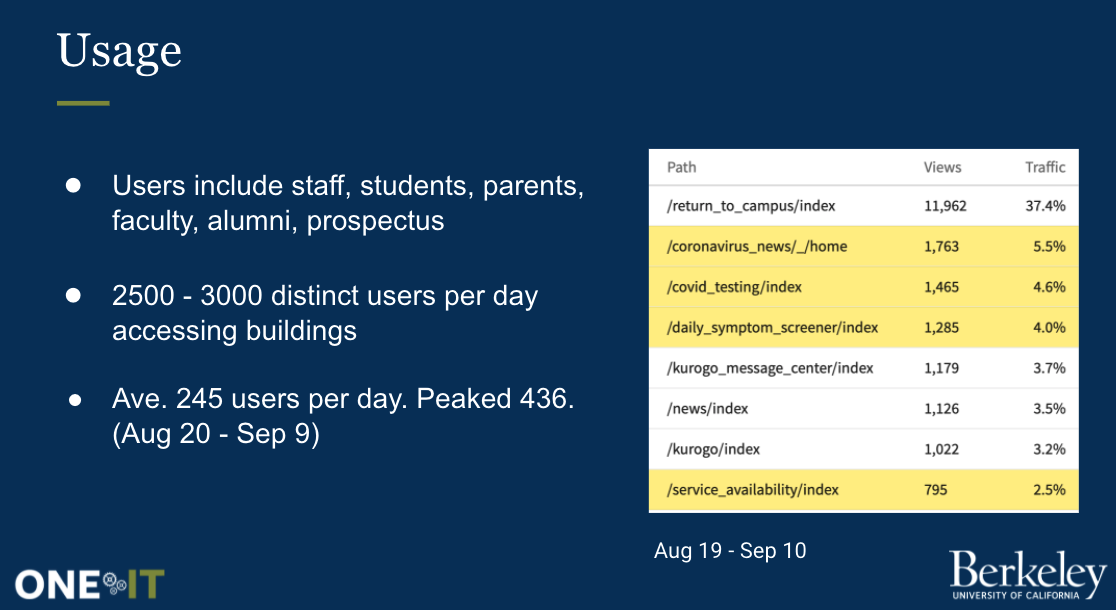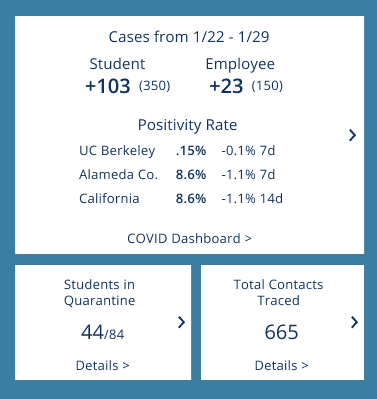 How can I know whether returning to campus is safe?
I designed a high level summary of campus wide COVID statistics within the app. Although this app version was never implemented, a campus COVID Dashboard was published via Tableau allowing students to view COVID positivity rates, letting them gauge the risk of being on campus. The dashboard was easily accessible from the app.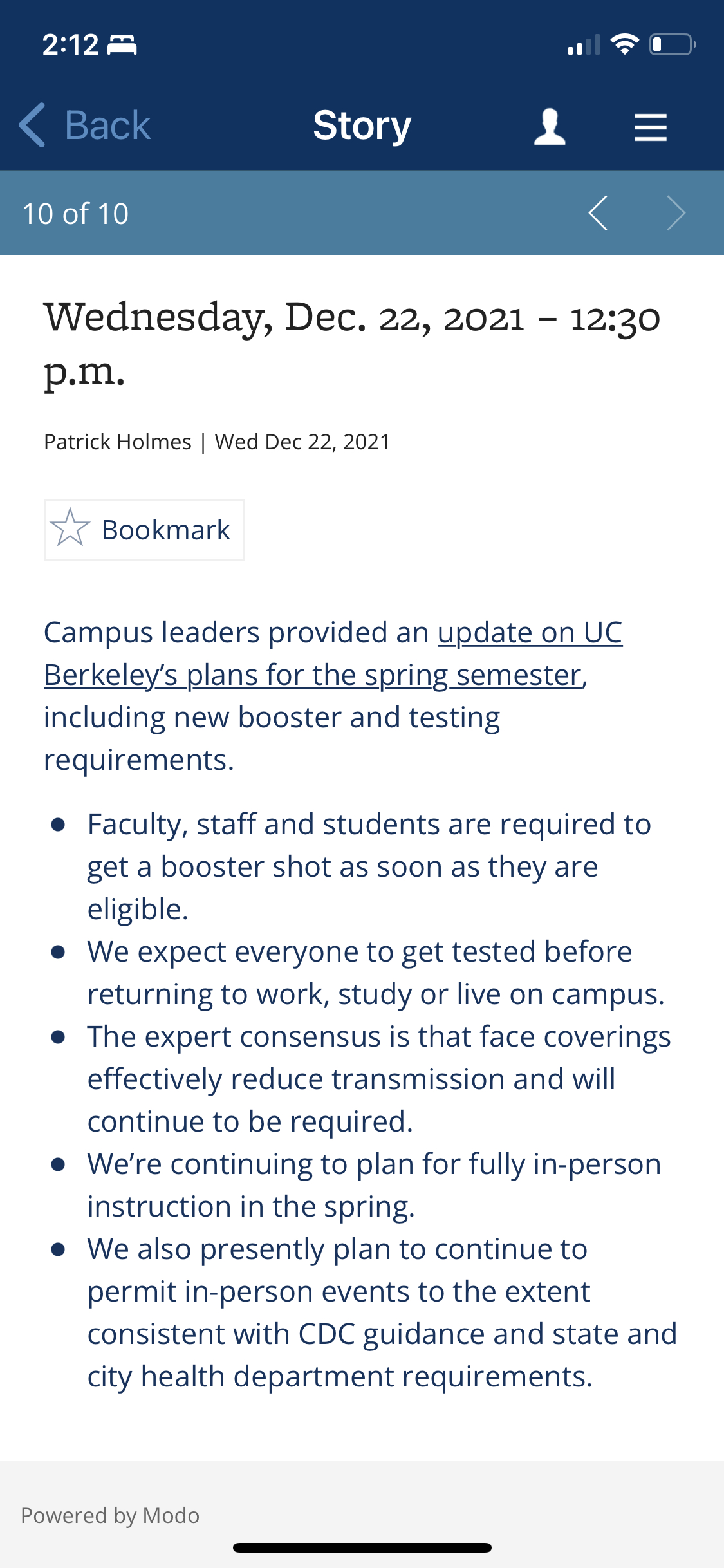 What is the plan and protocol for returning to campus?
A COVID news page displayed all campus updates relating to policy changes. I designed the navigation to the collection of news articles.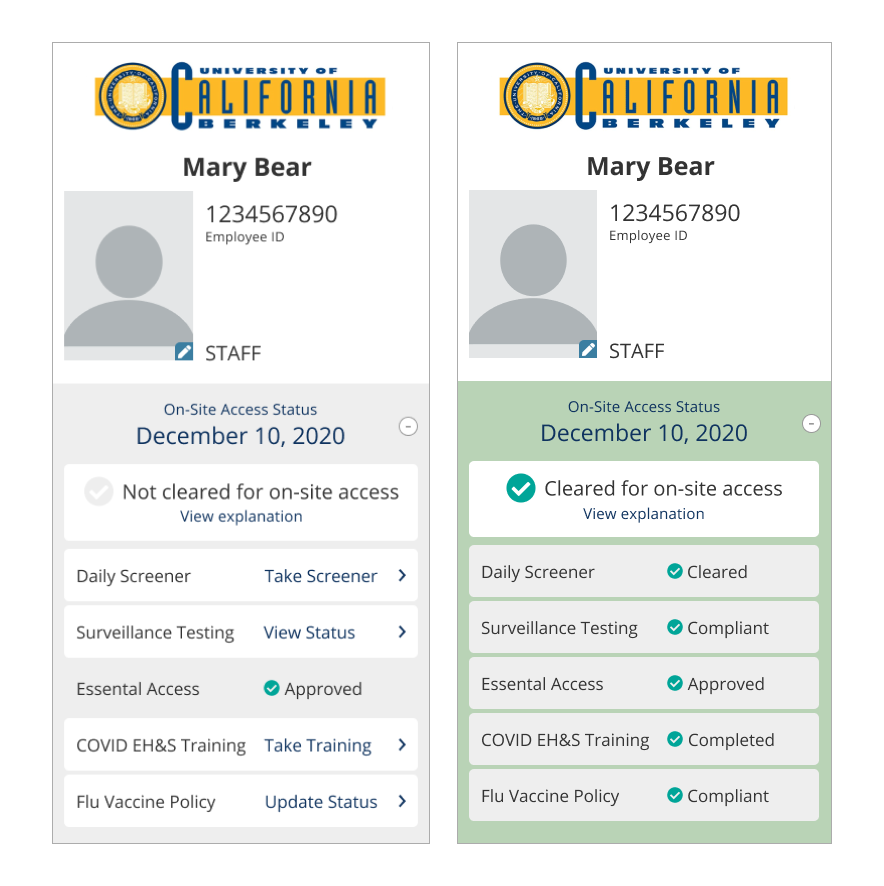 What actions can I take to ensure the safety of myself and others?
The "Campus Access Badge" compiles criteria required to comply with campus health and safety policy on a single interactive screen and easily accessed steps for compliance.
I designed and created the page using HTML and CSS.
The app was adopted campus wide within the response and recovery effort and return to campus strategy.
Analytics (September 2021)
14k users / day

86k views / day

30k downloads
Access to Information
The top visited content screens (more than 4000 views a week) within the app as of January 2022 were COVID testing instructions and COVID building hours.
Vaccination Rate
The app bolstered a mandate for vaccinations and booster shots. Campus vaccination rates reached 98.8% among students and 93.4% among staff by March 2022.